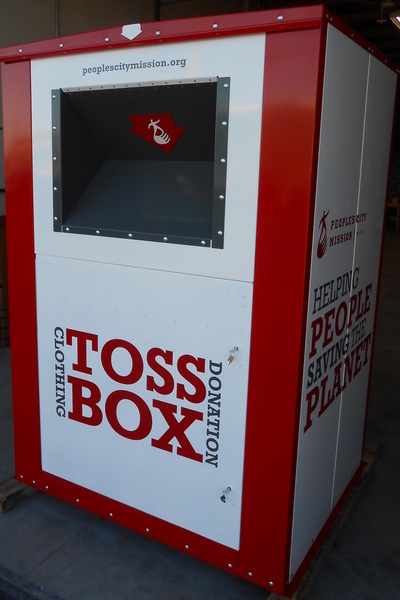 Clothing Donation Drop Box
Are you looking for an opportunity to support your non-profit organization or help those in need in your community? If so, you came to the right place!
A clothing toss box is an excellent tool to do just that.
Metalworks Inc. has developed in conjunction with a local non-profit organization a durable and eye catching toss box that will fulfill your every need! This Toss Box is available in an array of vibrant color configurations. A standard selection of generic graphic packages are available for you to choose from. If your organization has your own graphic or logo we can get that done for you as well. This Toss Box ships assembled and ready for use the moment you get it. All you have to do is attach the locking handle with three screws. The handle ships loose to prevent any shipping damage to the door.
Please contact us with any additional questions that you may have. We look forward to hearing from you!
Simply click below to request a quote or phone us at 402-476-1211 to get started and ask for Matt Springer